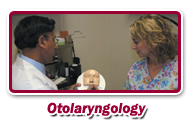 Otolaryngology relates to the diagnosis and treatment of problems associated with the ear, nose, and throat as well as facial,plastic and reconstructive surgery.

Comprehensive hearing assessments are conducted by our audiologists.
Routine testing reveals information regarding the presence and extent of a hearing loss, as well as information relating to various medical problems.
Follow-up testing determines any hearing changes.
More extensive testing is performed as indicated by an individual patient's symptoms.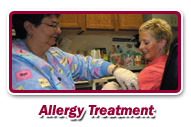 Our services also include the specialized testing and treatment of patients who have inhalant allergies due to smoke, pollens, molds, dustand animals, as well as some food allergies.
Patients with allergies may experience various symptoms including hay fever, "runny nose", itching and watery eyes, sneezing and head-aches.
Testing is done by intradermal skin testing technique and special blood tests called R.A.S.T. which allow allergy testing from blood samples.
This is especially useful for children.
Other tests are available to help with environmental control.